Documentary (2014), directed by Monique Verhoeckx
FLAT EARTH is an experimental film drama by Monique Verhoeckx dealing with the war experiences of her father and her young deceased grandfather. Both are struggling with post-traumatic stress disorder. The film is an attempt by the filmmaker to connect with the impenetrable world of her granddad and her father.
The memories and associations of the young fictitious main character Senior are fiercely driven by the fact that he is unable to face his war memories. Gradually the viewer gains access to Senior's emotional inner world of denial and distortion: a world that is under pressure when he is involuntarily confronted with images of the forced labour at the Thailand-Burma Railway. Like his son Junior, Senior is mentally in search of liberation from an inescapable past. By expressing his thoughts to his aged son he tries to master his anger and helplessness to make peace with his son and himself. A poetic narration of a traumatized family.
The film premiered during the Netherlands Film Festival in 2014  and was selected for the Golden Calf Competition and received a nomination in the category Best Sound. The documentary circulated in cinemas in 2015.
Characters
SENIOR, a young veteran who was a Dutch prisoner of war at the Thailand-Burma Railway during World War II.
Reaching out for his son:
His son, JUNIOR, was a war-camp child during the Japanese occupation of the Netherlands East Indies. Now he is an old man, still longing for his father.
Director's statement:
My family's secretive world of Post-Traumatic Stress Disorder inspired me to make a hybrid film. In the lives of my granddad and my father, both veterans of war, fiction and reality came and come together in distortion and denial. The past always present in the now, unspeakable war experiences echoing in silence and anger. As a member of the third generation and as a filmmaker I asked myself: how could I depict this process of coping with unbearable memories? I imagined a control room of the mind, like an editing studio. And I rearranged time. My own observations, archival footage, associative images and visual effects fill in the gaps of what is unseen and unheard by the outside world. This way I explored the complex relationship between a father and his son, trying to speak up as the next generation.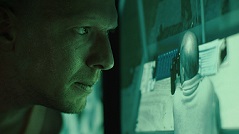 Senior: Joris Smit
Junior: Piet Verhoeckx
Screenplay & directed: Monique Verhoeckx
Director of photography: Gregor Meerman
Sound: Erik Langhout
Editor: Barbara Hin
Music composer: Albert van Veenendaal
Grading: Jef Grosfeld
Visual Effects: Ruud de Bruyn – Loods, Lux & Lumen
Sound Design: Erik Langhout & Albert van Veenendaal